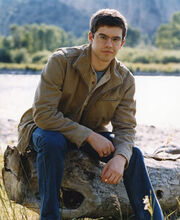 Christopher Paolini is the author of the Inheritance series. He was schooled at home, along with his sister. He graduated from high school at the fairly young age of 15, and started writing Eragon. Christopher Paolini was raised around Paradise Valley, Montana. Paolini's first book Eragon was was released in 2002 by Paolini International LLC which was owned by his parents. To promote his book Paolini dawned a "medieval costume" and visited 135 schools and libraries around the US talking to kids about how important it is to read and write books. In the Summer of 2002 the stepson of Carl Hiaasen found and read the book Eragon. He took the book to his publisher, Alfred Knopf, who agreed to publish Eragon and the rest of the Inheritance series. Eldest was published by Knopf in August of 2003. Paolini became a New York Times Best Seller at the age of 19. Later on Eragon went on to become a hit movie that went by the same name as the book. The third book, Brisingr, is scheduled to come out on September, 20, 2008. The series will eventually go on to the forth book but for now that is all.
Community content is available under
CC-BY-SA
unless otherwise noted.