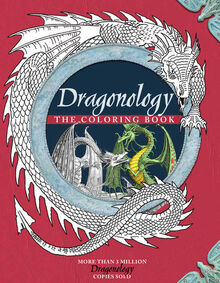 Dragonology is the title of several books, a modeling kit, and a board game, among other things. The books were written by Doctor Ernest Drake, a Dragonologist (a scientist who studies dragons), and were written in the 1800s. The books are re-created for modern audiences by editor Dugald A Steer, with other contributors credited as Helen Ward ("Scientific Artist"), Douglas Carrel ("Chief Draughtsman"), Wayne Anderson ("Pictorial Artist"), and Nghiem Ta ("Artistic Direction").
Dragonology is a secret science, as dragons may be exploited by cruel people, so readers of the books are encouraged to join the Secret and Ancient Society of Dragonologists (the S.A.S.D), of which the author of the books, Dr. Drake, is a member. Completing activities in the activity books will help the reader become a member of the S.A.S.D, and being a Dragonologist is framed as a noble persuit in conserving dragons. The books offer up scientific explanations behind dragon mythology, as well as discussing the species of dragons which inspire this mythology.
The publisher's note at the beginning of the original book reads:
This book purports to be the facsimile of an original published on a print run of 100 copies in 1895, of which a copy was recently found in a bookshop near the Seven Dials in London. Unfortunately, the publisher has been unable to ascertain whether a real Dr. Ernest Drake ever lived in St. Leonard's Forest or wrote a book called Dragonology and so, with regret, is unable to make any claim as to the truth of this and must present this volume merely as an interesting curiosity.
Dragonology is mainly about summoning a dragon and learning the secrets of dragons.
Species
If it is listed as "sp" the genus is known, but the species isn't, "ssp" indicates a subspecies, and "*" means the dragon is extinct.
Pseudo-Dragons
True Dragons
Main Book Series
The Complete Book of Dragons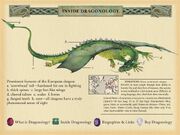 Dragonology: The Complete Book of Dragons is a book on the science of 'Dragonology'. It was first published in 2003, and was re-published in 2006. It is written in a 19th Century style. This is because it is supposedly based on a rare book published in 1896. This book's front cover is red with European Dragon flying over a village inside a circle that is surrounded by another European Dragon. The supposed author of this book is "Dr. Ernest Drake".We do not know if he actually existed or not. He is supposed to be part of the "Secret and Ancient Society of Dragonologists" (S.A.S.D.). It is an interactive folio book with lift up flaps and textures, and a variety of illustrators, mostly large colour illustrations by Helen Ward. As this is the first installment in the series, and new dragons are added in every book, the title 'complete book of dragons' is a bit of a nisnomer.
Working with Dragons/The Dragonology Handbook
This is framed as a complete course in Dragonology; once you have learned the contents of the Dragonology Handbook you are qualified to be a Dragonologist. An interactive, text-heavy book full of 'worksheets' to fill in (quizzes, puzzles), mostly pencil sketches by Douglas Carrel. Contains Dr. Drake's school report card, a pullout official ID card from the Secret & Ancient Society of Dragonologists and four sheets of stickers featuring dragons, gems, vintage ads and posters -- and more!
Field Guide to Dragons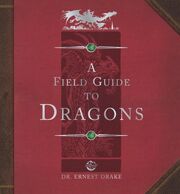 Even skilled dragonologists need special preparation to study in the field. What if an unfamiliar species should approach? Now an impressive guide highlights nineteen different dragon species, many seen here for the first time. Focused on species from the obscure tree-climbing monkey dragon to the better-known wyvern and amphithere, each entry details size, shape,colouration, habitat,the appearance of eggs and young and (most important) form of attack. To help readers recognize dragons in the wild, mini models of twelve of the species await assembly, each tucked in its own pocket and complete with its own stand. Twelve intriguing mini models in the most deluxe field guide yet -- an irresistible hands-on resource for devoted dragonologists!
Drake's Comprehensive Compendium of Dragonology
Thick, text-heavy book with more dragons than the others: as the final installment of the series, the Comprehensive Compendium is therefore the most complete list of dragons in the Dragonology canon. Illustrations are mostly sketches and coloured illustrations by Douglas Carrel
Drake's Comprehensive Compendim of Dragonology was released on the 27th of October 2009.
This lavish volume from the pen of eminent dragonologist Dr Ernest Drake is the definitve guide to the world of dragonology. Containing the complete collected wisdom of Dr. Drake on all matters dragonological, this truly is a must-have book for all aspiring dragonologists.
This book was the first in the UK to use holographic technology. By holding the drawing of the European Dragon on page 9 up to an active webcam with a specialist plug-in installed the dragon will become a 3D colour hologram.
Other Books and Merch
Supplementary Books
These books are a lot shorter than the main series.
The Northern Frost Dragon
Bringing Up Baby Dragons
Tracking and Taming Dragons Volume I - eminent dragonologist Dr. Ernest Drake shares all you need to know in order to set out on an expedition in the field. Plus,each pack includes an easy-to-assemble, lifelike hanging model of a European dragon with a 23-inch wingspan and moving wings.
Tracking and Taming Dragons, Volume II - Dr. Ernest Drake shares his expert tips and strategies for setting out on the trail of dragons in the field. What's more, each package features an easy-to-assemble, lifelike model of a Frost Dragon with a 23-inch wingspan and movable wings!
The Dragonology Chronicles (Novel series)
Novels set in the world of Dragonology. Two children, Daniel and Beatrice Cook, spend the summer with their parents' eccentric former tutor, Dr. Ernest Drake. Not only do Daniel and Beatrice begin to study Dragonology, but they are soon thwarting the efforts of Evil Dragonologists and working to actively keep dragons safe and secret.
The Dragon's Eye
The Dragon Diary
The Dragon's Apprentice
The Dragon Prophecy
Dragonology Pocket Adventures (Choose-your-own-adventure books)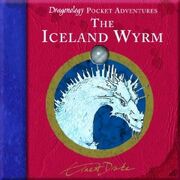 Very small hardcover books, where each scenario ends in a dilemma for the reader to choose which page to read next: "do you go down the left road (turn to page 6) or the right road (turn to page 10)? These are framed in-universe as training exercises for Dragonologists.
Other Media
Dragonology: The Board Game - Gather knowledge on dragons as you adventure around land, air and sea. This game is based around the best-selling book Dragonology and features detailed figurines with a beautifully crafted board. Players must master three of the nine dragons and advance to the Dragons's Eye to win. This game is for 2 to 6 players and more information can be found at Dragonology Board Game.
Dragonology: Hatch - collect diamonds, rubies, sapphires, amethyst and emeralds as you try to outwit opposing Dragonologists and befriend various types of dragons. Includes 53 cards, with 40 suited cards, 13 command cards, 6 dragon cards, 4 dragon egg cards, 3 tools, 4 key cards and instruction booklet, all stored in a round tin.
Dragonology miniatures
Dragonology plushes (Series 1 and 2)
Dragonology colouring book
Dragonology code writing kit - each kit contains: Code-making instructions, 16 sheets of notepaper, 16 envelopes, 6 postcards and 2 sheets of stickers
Obscure Spells and Charms of Dragon Origin - each kit contains: a decoder for the Dragonish language, Wyvern Dragon Dust from 1873, The Talisman of Master Merlin and a spell booklet.
See Also