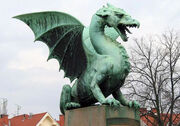 European dragons are legendary creatures in folklore and mythology among the overlapping cultures of Europe.
In European folklore, a dragon is a serpentine legendary creature with two pairs of lizard-type legs and bat-type wings growing from its back, those are also known as Western Dragons. A dragon-like creature with no front legs is known as a wyvern.
In Western folklore, dragons are usually portrayed as evil, with the exceptions mainly in Welsh folklore and modern fiction. This is in contrast to Asian dragons, who are traditionally depicted as more benevolent creatures. In the modern period, the European dragon is typically depicted as a huge fire-breathing, scaly and horned lizard-like creature, with (leathery, bat-like) wings, with four legs and a long muscular tail. It is sometimes shown with feathered wings, crests, fiery manes, ivory spikes running down its spine and various exotic colorations. Dragon's blood often has magical properties: for example in the opera Siegfried it let Siegfried understand the language of the Forest Bird. The typical dragon protects a cavern or castle filled with gold and treasure and is often associated with a great hero who tries to slay it. Though a winged creature, the dragon is generally to be found in its underground lair, a cave that identifies it as an ancient creature of earth. Possibly, the dragons of European and Mid Eastern mythology stem from the cult of snakes found in religions throughout the world.
Gallery