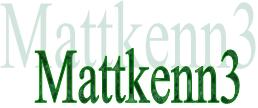 Hello, this is Mattkenn3, and welcome to my userpage. I have been an active Wikipedia user for four years and have recently began working on Wikia. I have only been an active wikia user for about one year now. Most of my work on Wikipedia was with a project to create articles on African wildlife and to help the Meerkat Manor article, which has now reached the featured status, become a higher-quality article. After a while on Wikipedia I became bored. So, I began to help out in other communities. I went to the Simple English Wikipedia, French Wikipedia, Commons, and Wikivercity. I stayed on these projects only for a few weeks, maybe a month, before I discovered wikia. I became very active and found it a bit easier to get involved in the community and to stay active. I love how it allows you to spread your talent through it's countless hubs. So, I found Wikia much more appealing. I have been editing on wikia's many hubs since then. I am an administrator at the Meerkats Wiki, the Constructed Mythology Wiki, and the Dragons Wiki. I am an active user on several other wikis. I plan to gain administratorship on a few other wikis soon. In conclusion, I've been around for a while and if you need any help, just ask.
Pages I have Created
Significant Contributions
These are the pages I have contributed to significantly.
Shen Lung
Biblical References to Dragons
Psalms 44:19
though thou hast sore broken us in the place of dragons, and covered us with the shadow of death.
Psalms 74:13
Thou didst divide the sea by thy strength: thou brakest the heads of the dragons in the waters.
Psalms 91:13
Thou shalt tread upon the lion and adder: the young lion and the dragon shalt thou trample under feet
Psalms 147:7-147:13
Praise the LORD from the earth, ye dragons, and all deeps:
fire, and hail; snow, and vapor; stormy wind fulfilling his word:
mountains, and all hills; fruitful trees, and all cedars:
beasts, and all cattle; creeping things, and flying fowl:
kings of the earth, and all people; princes, and all judges of the earth:
both young men, and maidens; old men, and children:
let them praise the name of the LORD: for his name alone is excellent; his glory is above the earth and heaven.
Isaih 13:22
And the wild beasts of the islands shall cry in their desolate houses, and dragons in their pleasant palaces: and her time is near to come, and her days shall not be prolonged.
Favorite Dragons